An Introduction to Bioinformatics
In a world where tasks must be completed in the quickest possible way, learning to code (the basics at least) is essential. But this just seems like a vast task and it's difficult to figure out where to even begin. Well, that's what we're hoping this series of modules is going to accomplish. They are essentially a gateway to introduce you some introductory concepts in BASH, Python and R. You will be able give it a go and write some code yourself, too!
Before we begin, there are some quick steps you must take to set things up. The modules rely on the use of two interactive development environments: Jupyter and RStudio.
Getting Started With Jupyter and RStudio
The Bioinformatics Educational Module series relies on the use of two interactive development environments: Jupyter and RStudio. This webpage will walk you through setting up and running these environments successfully.
JupyterHub
Jupyter Labs will allow you to create notebooks in python and run a terminal program to experiment with BASH. Jupyter offers a web-based interface for trial purposes and a downloadable version for larger projects and personal use. For the requirements of our modules, the web-based version was a little too slow and we didn't want to force the download on you guys.
We created a JupyterHub that will allow for students to access the functionalities of Jupyter, without having to download it. To access this web-page, click the following link:
In the instructions e-mail, you would have received a Username. Enter your username and select a passcode to log in.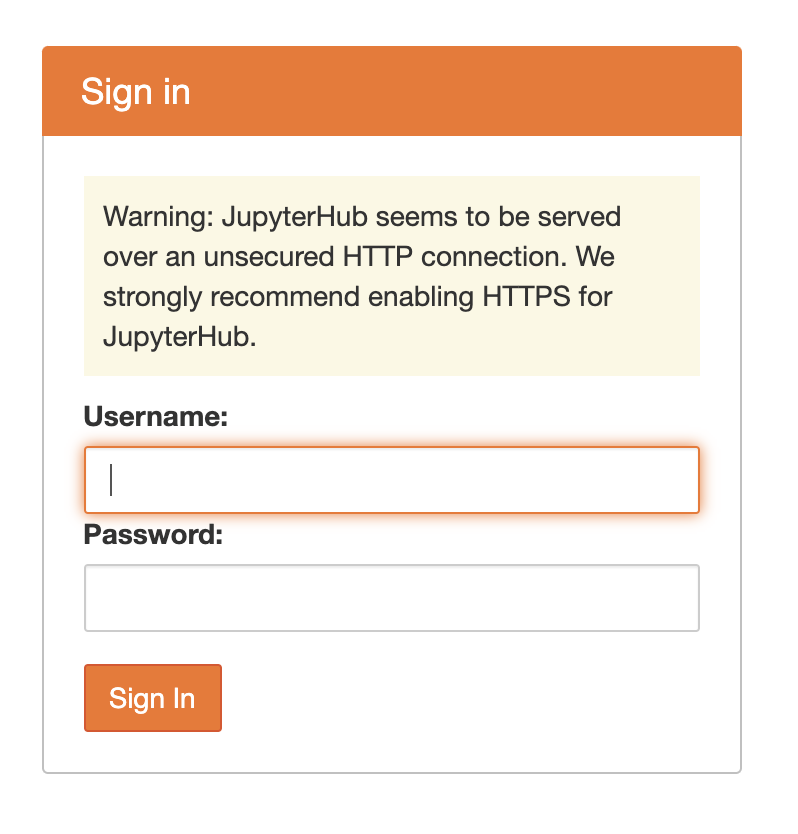 Upon logging in, you would see a file-system that looks like this:
2. From here, you must navigate to the JupyterLabs page. To do so, change the 'tree' extension in the URL to 'lab'.

↓

You should now see a page that looks like this:

Installing Jupyter to Your Device
For the long run, it is beneficial to download Jupyter and have it available, locally. If you'd like to do so, follow the instructions below.
You will require an installer such as conda or pip. I personally prefer conda, but both should work just fine.
The link to the conda installer can be found here: Conda
The link to the pip installer can be found here: Pip
Then in your terminal (you can find this in the Utilities folder under Applications), type the installation commands for the installer you opted for:
conda install-c conda-forge jupyterlab

pip install jupyterlab

If you are facing some difficulty in getting this running, a more detailed installation guide can be found here: JupyterLab Installation
Installing R and RStudio on your Desktop
The best way to use R is through RStudio. Unfortunately, there isn't a handy web-based version for this tool. Here are the installation instructions to download R and RStudio, locally.
Download and Install R:
Go to the R-Project webpage: R-Project Link
Click on download R
Choose the mirror (the closest one to your current location)
Click on the download link specific to your device (Mac OS X for Mac etc). Note: the main difference between each version is the file format. For Mac click on the .pkg file in your file system and for Windows run the .exe file
Check your downloads and complete the installation according to the prompts
Download and Install R-Studio
Go to the R Studio webpage: R-Studio Link
Navigate to the bottom to find Open Source > RStudio Desktop
Click the download link
For MacOS, save the file to your system and drag the it to your applications folder
For Windows run the .exe file and complete the installation instructions
And..that's all! You should now be equipped with the right tools for your learning journey in BASH, Python and R.
Let's Get Started!
To begin, click on the links below: